Green roofs are becoming all the rage these days. But, what are the benefits of having one? We look to answer that question and more in this post.
To get things started, our friends at Green Roof Technology have created some bullet points outlining the benefits:
For the Building Owner:
Expand roof life 2×3 times (up to 60 years)

Reduce air-conditioning costs

Reduce winter heating costs

Stormwater management tool

Up to 15 LEED credits

Government and municipality incentives

Improve public relations

Transform dead space into garden space
Check out some environment benefits here…
But what about their looks?  Do green roofs look good?  There are definitely some asthetic benefits according to Live Roof:
Aesthetic and Environmental Benefits

Aesthetic Benefits
Green roofs are much better looking than asphalt, gravel or tar

Natural views create more productive, healthy, happy, creative, relaxed people.

Green roofs expand the usefulness of buildings via patios, gardens and vistas.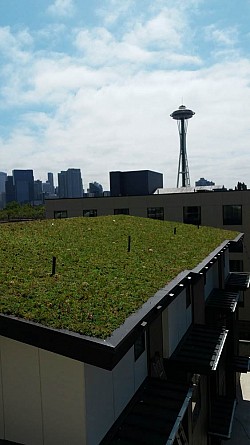 Last but certainly not least, lets talk about the ecological benefits of green roofs. According to Zinc GreenRoof:
The Ecological Benefits of a Green Roof

Provides Rainwater Management

Depending on the green roof design, the immediate water run-off can be reduced by 50–90 %, greatly reducing drainage flow rates. This enables the rainwater management system to be reduced in capacity, thereby greatly reducing construction costs.

Improves the Microclimate

Green roofs cool and humidify the surrounding air. Thus they create a beneficial microclimate within their immediate area and contribute to improving the microclimate in urban centres. Coordinated urban green roof development can significantly reduce the so-called "Heat Island" effect.

Binds Dust and Toxic Particles

Green roof vegetation helps to filter out dust and smog particles. Nitrates and other harmful materials are absorbed by the plants out of the air and rainfall and bound within the substrate.
For more ecological tips go here…
Green roofs are becoming more and more popular for a reason….they have tons of benefits! If you need help choosing the best roof for your house, give us a call today and speak with a qualified roofer.
Sometimes repairing or replacing your roof can be too costly. In this article we're going to give you some asphalt shingle installation tips, so you can do it yourself.
First, you need to consider felt paper and drip edges:
Felt Paper and Drip Edges

Do you need to use felt paper? On new roofs the answer is yes. Re-roof jobs do not require it. I prefer to apply the felt as I go if at all possible. If you do the entire roof and the felt gets wet or dew covered, it will wrinkle. These wrinkles can telegraph through thin standard 3 tab shingles! Not only that, if the weather is hot and you walk up a felt covered roof, the felt can and will tear. You will be on the ground before you know what happened. If you apply felt as you go, you can just use a minimum amount of nails. Within minutes hundreds of nails from the shingles will pierce it.

Drip edges are corrosion resistant metal strips that protect the exposed ends of the roof deck at the bottom and sides of the roof. Drip edges go on the bottom of the roof before felt paper is applied. However, they are applied on top of the felt on the side edges of the roof. If you install a roof membrane, it must be installed before any of the drip edge. The membrane actually should lap over onto the gutter board!
Get more installation tips here…
Some good points to consider for sure.  In order to keep costs down, you also need to make sure you get the right number of shingles for the job as Wikihow suggests:
Install Asphalt Shingles

Get the right number of shingles for the job. It generally takes three bundles of shingles to cover 100 square feet (9.29 square meters). Asphalt shingle "bundles" are actually sealed in packages (the term bundle comes from wooden shingles which actually came tied up with wire in bundles). Measure your roof and buy appropriately.

Measure the length and width of the individual sections of the roof, multiplying them together to determine the area. Add the areas of each section together, then divide by 100 to get the correct number of squares. Multiply this number by 3 to get the number of bundles you'll need to buy.
Get some more great tips here…
Now ofcourse before you put in new shingles, you'll probably need to take the old one's out.  Hammerzone tells you how to do just that:
Do-It-Yourself Roof Replacement:

This tool is a shingle scraper. It is basically a flat-blade shovel with some big teeth. There is a triangular "heel" welded to the bottom, which acts like a ramp to pivot the scraper against and lift the shingles from the roof.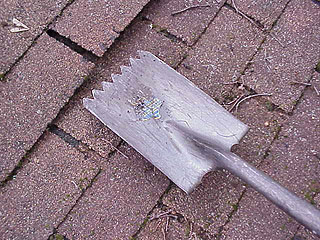 The scraper is simply pushed under the shingles and lifted. This tool does a decent job of prying up the roofing nails as well.
Get the rest of the tutorial here…
Well there you have it.  If you don't have the money or just want to get your hands dirty, now you can!  If the task seems too daunting though, give us a call and we'll make sure the job gets done right.